Type Of Visa

Consular Services
Summary of Countries and Territories entitled for Visa Exemption and Visa on Arrival to Thailand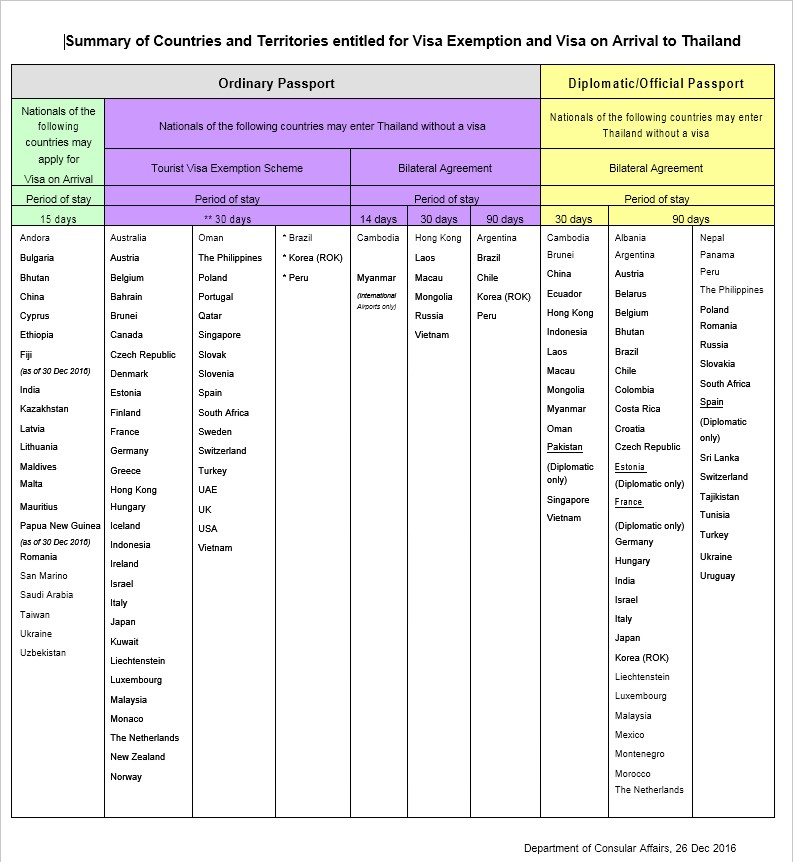 * Thailand also holds bilateral agreements on visa exemption for holders of diplomatic, official and ordinary passports for a visit of not exceeding 90 days with Brazil, Republic of Korea and Peru.
** Maximum length of stay of altogether 90 days, within 6 months of the first visa-free entry. Entering the Kingdom through land/sea boarder checkpoints allows one to stay for maximum 15 days/entry only twice in a calendar year. Except 1.) Malaysian nationals who cross the borderline from Malaysia and 2.) Nationals of the G7 countries: USA, UK, Canada, France, Germany, Italy and Japan, who are entitled to a stay of maximum 30 days.
Foreigners entering Thailand under the Tourist Visa Exemption category must possess adequate cash of or equivalent to 20,000 Baht per person or 40,000 Baht per family.
Please note that Tourist Visa Exemption does not apply to foreigners holding Travel Document for Aliens issued by these countries.
Attached is the boarder crossing announcement effective 31 December 2016.
---

annoucement - new boarder crossing regulation.jpg